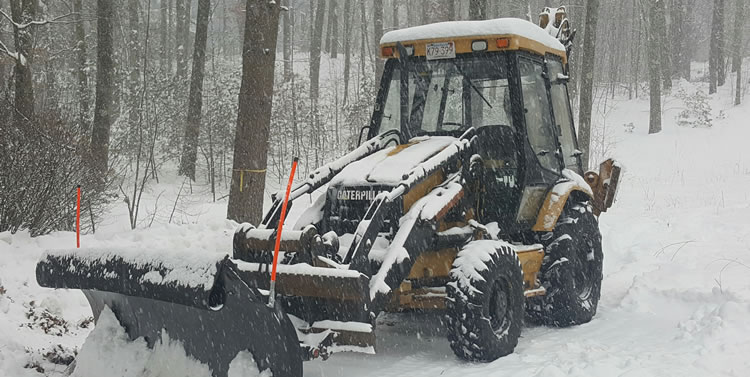 Snow Removal Services MetroWest MA
We specialize in snow removal services.
Are you looking for a reliable company with the equipment to take care of your snow removal needs during the winter months?
Bonica Excavation Inc. is an Acton MA based general contractor that has been serving the local area since 1987.  We specialize in residential and small scale commercial snow removal.  We are licensed, insured and we guarantee the highest levels of safety for ourselves, your property and your patrons.
From removing snow in your parking lot after a fresh snowfall to keep access roads clear to plowing your driveway to a service retainer to ensure your property has priority during heavy snowfall, Bonica Excavation can take care of your snow removal needs.
Snow Removal Services MetroWest MA
Snow removal service retainers
Parking lot snow removal
Access road snow removal
Commercial property snow removal
Salting services
Questions About Our Snow Plowing & Snow Removal?
Simply fill out our contact form on this page or give us a call at (978) 263-3530 and we will email you over a snow removal proposal within 24 hours.
Yes!  In most cases we can use satellite technology like Google Earth to measure the length and width of your driveway.  For commercial properties this is also possible but we will need to organize a site visit to learn the particulars of your property for safety and efficiency reasons.
We begin plowing or removing snow from your property/driveway when the accumulation is more than 1 inch and the snow has stopped falling.
We classify a snow event as any weather condition that results in the accumulation of snow beyond 1 inch on our customers property including driveways, sidewalks, and parking lots.
If a snow event lasts 3 or more consecutive days our snow plow will be dispatched to plow only driveways or parking lots to provide emergency access.  When the event has ended we can then shovel sidewalks, walkways, and offer more complete snow clearing services.
Depending on the size of your driveway or parking lot we may use one of our trucks with a plow or one of our machines.  We can use snow shovels and snowblowers to clear sidewalks and walkways.
We remove "fresh" snow down to the pavement.  We do not remove the hard packed ice/snow due to vehicle or foot traffic that has accumulated over multiple snow events.
Please call the office phone number at 978-263-3530 or email us through our contact form. If you do not let us know at the office, the crew may continue to miss the spot you want cleared.
Yes we can however it will be serviced after all of our other regular and repeat customers. This could result in a delay of up to 24 hours after the snow has fallen. The easiest way is to text your name and address to 978.263.3530 and clarify what you are looking for (driveway plowing only, salting, etc). We can then text you back with a price and once agreed, put it on our service list.
Yes!  We can safely plow gravel driveways of all sizes.  Our adjustable plow makes it easy for us to adjust the height and width of each push and we won't chew up your gravel driveway.
Why Choose Bonica Excavation For Snow Removal?
When you choose Bonica Excavation for snow removal services you are partnering with a local business that has been serving the area for 30 years.  We have our own equipment and can provide services when you need them.  We maintain a safe work environment and protect your property from damage, while keeping your facility clear from snow and safe for drivers and people walking.
If you'd like to receive an estimate for snow removal services please give us a call (978) 263-3530 or fill out our contact form and we'll get right back to you.