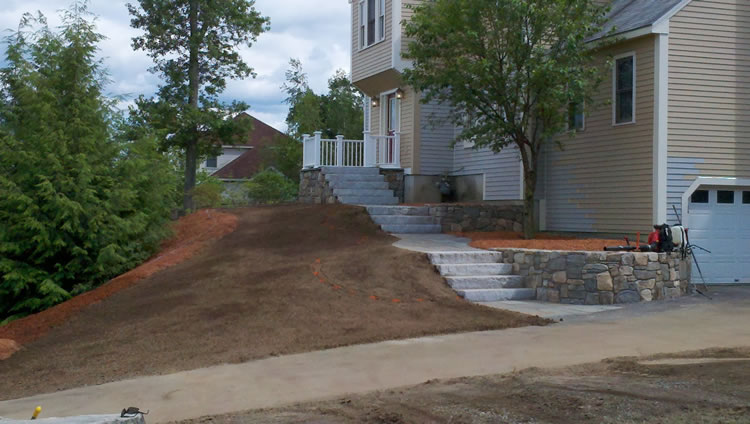 Do You Need Landscaping Materials Like Rock, Sand, Soil or Fill?
We Deliver, Spread and Also Remove Unwanted Landscaping Material
Landscape construction projects involve moving earth.  Materials like dirt, rock, sand, gravel, mulch and more are easy enough to move around when you only need a small amount but when you're trying to landscape a large property with an ambitious landscaping plan you're going to need the help of machines.
Bonica Excavation Inc. is an Acton MA-based excavation and landscaping contractor that has been serving the local area since 1987.  We specialize in residential and commercial landscape construction projects including landscape material deliveries including rock, soil, sand, gravel and more.  We can also help you with clean fill and also the removal of unwanted fill as well.
We are licensed, insured and we guarantee the highest quality workmanship on your project for a fair price.
Landscape Material Deliveries MetroWest MA
Sand and gravel
Soil and clean fill
Rock and boulders
Mulch and speciality materials
Removal of materials
Landscaping Material Removal
Bonica Excavation also specializes in landscape material removal such as brush clearing, leveling grades, digging out ponds, removing old concrete and/or pavers and more.  We have a variety of machines to choose from depending on the scale of your project from a skid-steer all the way up to large excavators.
Why Choose Bonica Excavation For Your Landscaping Materials?
When you choose Bonica Excavation for your landscaping project you are partnering with a local business that has been serving the area for 30 years.  You can count on your project being completed on time, within your budget and with a level of workmanship and attention to detail you won't find with other contractors.
We'll maintain a safe working environment and we'll protect your property from any damage while using our machines, the end result is to meet all of your excavation goals while leaving minimal trace of our presence.
If you'd like to receive a Free Estimate for your next landscaping construction project including the delivery and spreading of landscape materials please give us a call (978) 263-3530 or fill out our contact form and we'll get right back to you.