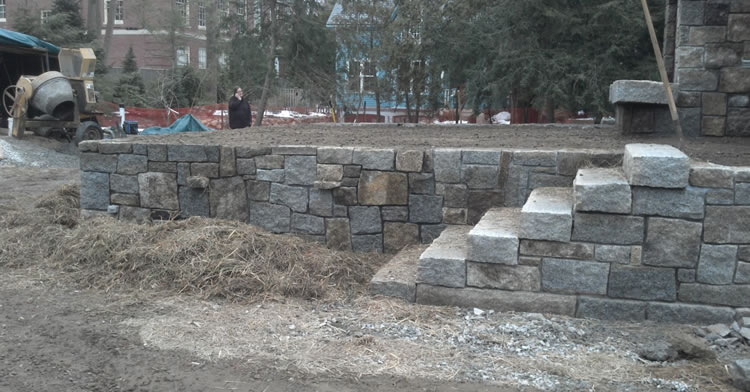 Retaining Wall Solutions For Sloped Properties
We specialize in building beautiful, functional retaining walls.
In many situations, a properly built retaining wall is a great way to enhance both the look and function of your landscaping.  Retaining walls are commonly used as a solution for sloping and uneven properties as the clever use of retaining walls will let you carve out functional outdoor spaces into sloped properties that can be suitable for garden areas, sections of lawn, patios, parking pads, and more.  Made out of a variety of building materials retaining walls can complement your landscaping and increase your properties curb appeal.
Bonica Excavation Inc. is an Acton MA-based excavation contractor that has been serving the local area since 1987.  We specialize in retaining wall engineering, design, and construction out of a variety of materials including rock, boulder, block and even concrete.  We can design and install a trouble-free retaining wall system.
From a 30′ foot long stacked block retaining wall to hold back your garden to large boulder retaining walls on your terraced or sloping property for parking areas or new buildable land.  The team at Bonica Excavation will be able to provide retaining wall solutions that will benefit your specific property.
Retaining Walls and Proper Drainage
While retaining walls are designed and built to hold back earth and fill they will also hold back and channel water.  The water that builds up behind a retaining wall is referred to as "hydrostatic pressure" and the external force of the material/fill held behind your wall coupled with the weight of the water is often enough to seriously compromise the integrity of your wall and even cause failure and collapse of a poorly engineered wall.
A good drainage system should be an integral part of any retaining wall design.  Depending on the type of material being used to build the wall there are a variety of ways to integrate sufficient drainage, such as weep holes, lateral drains, blanket drains and also the use of very granular soil or fill behind and below the wall.
Retaining Wall Material Choices
There are many different materials to build your retaining wall from, we've just listed some of the more popular in our area because of their availability.  If you have an idea for a retaining wall and you'd don't see the materials listed here please give us a call or use our contact form and we'd be happy to source them for you.
Boulder Retaining Walls:  Boulders make a very strong statement and much like gravity blocks their sheer size is what gives them an edge as retaining wall construction material.
The natural look of stone if appealing and no two boulders will be alike giving you a very unique appearance to your wall.  Retaining walls built with boulders will also require the use of heavy machinery which will add to the cost of your project.  Boulders are purchased by the ton and are available in good supply locally.
Concrete Retaining Walls:  For a very modern and clean look many property owners choose to use concrete for their retaining walls.  When using concrete we must construct wood forms so that the concrete can be poured or pumped into the retaining wall form.
Walls with many complex curves or that are very long can require extensive formwork which is quite labor intensive.  One of the benefits to using concrete is that it can be colored or even stamped on the outer surface to enhance the appearance and make it appear like stone blocks, or wood or other materials.
Landscaping Block Retaining Walls:  This is probably one of the most common retaining wall materials because of it's pleasing looks, availability, and affordability.  Landscaping blocks are usually used to build retaining walls that are under 3′ – 4′ feet in height.  They are available in different shapes with decorative colors and even texturing.
The stackable blocks or stones are made of concrete and usually have a decorative finish on the front side and then a small lip on the back. The lip fits into the block below it to form an interlocking joint that can withstand the external forces of your soil and fill pushing against it.  The blocks are often slightly wedge shaped to make it easier to create curved retaining wall designs.
Fieldstone Retaining Walls:  This style of retaining wall is very popular for it's aesthetically pleasing looks (it's pretty tough to beat the looks of a natural stone wall!).   Fieldstone retaining walls are not necessarily the best choice for very high retaining walls because they are simply too light of a material to hold back that much earth.
They are however an excellent choice for retaining walls that are under 6 feet in height and more decorative in nature.  There is a wide variety of fieldstone available locally (if not on your own property) and they can come in various shapes and sizes from round river rock style stones to very flat, flagstone type stones.
How Our Retaining Wall Construction Process Works
When building a retaining wall on your property that is designed to hold back tons of soil and earth there is very little margin for error so we work directly with geotechnical engineers if your wall is over 1.2 meters in height.
We start with our initial consultation.
We determine how many feet of retaining wall you need.
We determine the height of the wall and if a building permit or engineer will be required.
We consult with you on the materials you'd like your retaining built with.
We'll provide you with an accurate written estimate for the work.
We'll get to work on the schedule start-date and build your new retaining wall.
The end result will be a beautiful new retaining wall on your property.
The amount of work required to build a retaining wall can vary widely from project to project.  The slope of your property, the amount of earth your retaining wall must hold back and the overall accessibility of your property will all contribute to the final cost.  We'll be able to offer you an accurate estimate only after a site visit.
Why Choose Bonica Excavation For Your Retaining Wall Project?
When you choose Bonica Excavation for your septic system repair project you are partnering with a local business that has been serving the area for 30 years.  You can count on your project being completed on time, within your budget and with a level of workmanship and attention to detail you won't find with other contractors.
We'll maintain a safe working environment and we'll protect your property from any damage while using our machines and the end result is too meet all of your excavation goals while leaving minimal trace of our presence.
If you'd like to receive a Free Estimate for your septic system repairs project please give us a call (978) 263-3530 or fill out our contact form and we'll get right back to you.