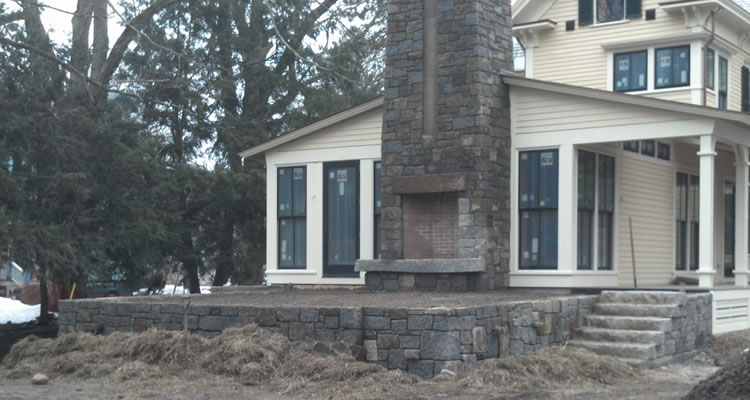 New England Stonework
Some of the Stonework in New England has a history going back over 400 years.  It was in 1939 that a mining engineer by the name of Oliver Bowles estimated that there were probably more than 259,000 miles of stone walls in the northeastern U.S., most of which is in New England including Massachusetts.  Many of these old walls have since been destroyed or overgrown beyond recognition, but the strong traditions and craftsmanship remain in circulation among local construction and masonry contractors throughout the area to this day.
Bonica Excavation Inc. is an Acton MA based excavation and landscape construction contractor that has been serving the local area since 1987.  We specialize in New England style stonework including, fieldstone walls, granite stairs, bluestone/brick walks and patios, fireplaces, and veneer work.  We are licensed, insured and we guarantee the highest quality workmanship on your project for a fair price.
New England Stonework
Fieldstone retaining walls
Granite slab stairs and patios
Dry stacked stone walls
Bluestone/brick walkways and patios
New England style fireplaces
Stone veneer work
Why Choose Bonica Excavation For Your New England Stonework Project?
When you choose Bonica Excavation for your New England style stonework project you are partnering with a local business that has been serving the area for 30 years.  You can count on your project being completed on time, within your budget and with a level of workmanship and attention to detail you won't find with other contractors.Maintaining a safe work environment and protecting your property from damage and restoring evidence of our presence is ou
We'll maintain a safe working environment and we'll protect your property from any damage while using our machines, the end result is too meet all of your excavation goals while leaving minimal trace of our presence.
If you'd like to receive a Free Estimate for your New England style stonework or masonry project please give us a call (978) 263-3530 or fill out our contact form and we'll get right back to you.