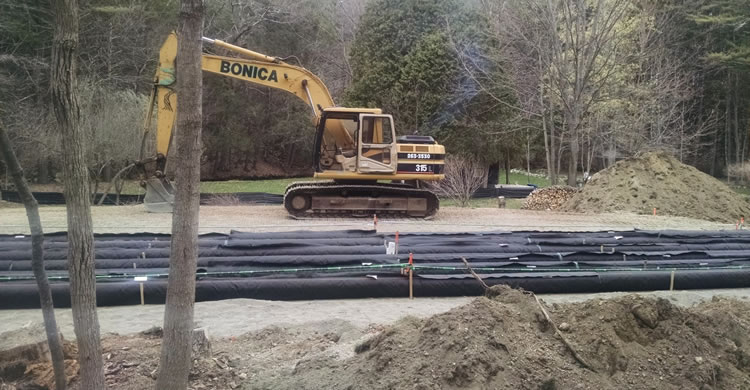 Do You Need a New Septic System Installed?
We specialize in new septic system design and installation.
Are you building a new home or developing a new piece of rural land that doesn't connect to a city sewer system?  Maybe you have an existing septic system that is beyond repair and is now in need of proper redesign and replacement?  Septic systems in Massachusetts require design, installation, and inspections under Mass. Title 5 and must be certified.
Bonica Excavation Inc. is an Acton MA-based excavation contractor that has been serving the local area since 1987.  We specialize in Title V or Title 5 certified septic system design, engineering and installation for new construction projects or the replacement of existing septic or cesspool systems.  We can design and install a trouble-free septic system suitable for the intended use and size of your household.
We are licensed, insured and all of our septic system installations are Mass. title 5 certified.  We guarantee the highest quality workmanship on your septic system for a fair price.
Septic System Installations Middlesex County, MA
Septic system engineering
Septic system design
Septic system installation
Cesspool replacement
Septic system replacement
What Are The Steps And Permit Fees For A New Septic System Installation?
If it's been determined that your system needs to be replaced or a new installation is required for your new construction project the first step in the process is to hire an engineer with title V experience to evaluate your property and design a septic system that would be adequate for your particular property.
After you've hired an engineer the next step is usually a "perc" test otherwise known as a percolation test. The perc test is a useful tool in measuring the rate at which water is absorbed or dispersed into the ground where your septic system will be installed.  The perc test basically determines whether the soil has suitable drainage for a septic system or not.  The engineer will design your septic system based upon the results of the perc test, the size of your home, and how many bedrooms and bathrooms you have.
Once the plans have been created for your new septic system, four copies of the engineered plans, two copies of your soil analysis, and a check for $175.00 must be submitted to the Board of Health office. The BOH then has 45 days to review your septic system plans and either approve or reject them. If the plans are approved, the plans can be picked up and the installation of the system can begin at anytime. If the plans are rejected, the plans must be revised and additional fees will be charged.
Do We Get A Certification That Our New Septic System Is Title V Compliant?
When your septic system has been installed and the job is complete according to the plans the engineer will need to submit the "as-built" plan showing where the new septic system was installed.  The installer (Bonica Excavation) will need to also submit a certification statement.  Once these items are complete the local Health Agent can sign your Certificate of Compliance, which is most often issued directly to the septic system installer. After you've completed the final payment for the new septic system to your contractor, they can give the Certificate of Compliance to the homeowner and your system is considered complete and certified.
Septic System Financing Options For MA Homeowners
Not everyone has the money sitting around in an account to replace a failing septic system.  If you need a new septic installed but cannot afford to replace the septic system you can apply for financial aid with the Massachusetts Home Septic Loan Program.  You can learn more by visiting the Mass Housing Septic Loan Program webpage.  These loans are low interest and they are repayable over an extended period of time to make acquiring your new septic system within reach for most households.
Some Quick Facts On The Septic Loan Program:
Owners of 1- to 4-family homes and condominiums are eligible
The minimum loan amount is $1,000; the maximum loan amount is $25,000
Loan terms vary from 3 to 20 years
Interest rates range between 0% and 5%, depending on household income
There are also state tax credits available to homeowners who need to repair or replace their septic systems as well.  Read More On Septic System Tax Credits Here.  The Commonwealth provides a tax credit of up to $6,000 over 4 years to defray the cost of septic repairs to a primary residence. Forms are available from the Department of Revenue to enable homeowners to claim up to $6,000 in tax credits for septic upgrades. The credit cannot exceed $1,500 in any year and may be spread out over 4 years. The tax credit is limited to work done on a primary residence only.
Why Choose Bonica Excavation For Your Septic Installation Project?
When you choose Bonica Excavation for your septic system repair project you are partnering with a local business that has been serving the area for 30 years.  You can count on your project being completed on time, within your budget and with a level of workmanship and attention to detail you won't find with other contractors.
We'll maintain a safe working environment and we'll protect your property from any damage while using our machines and the end result is too meet all of your excavation goals while leaving minimal trace of our presence.
If you'd like to receive a Free Estimate for your septic system repairs project please give us a call (978) 263-3530 or fill out our contact form and we'll get right back to you.