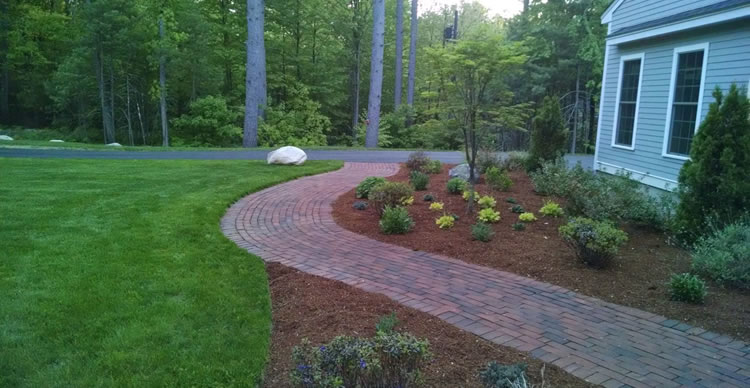 Outdoor Walk and Patio Construction
Built with stone, brick, concrete or pavers.
Concrete, brick or paver walks and patios are now a popular aspect of modern exterior residential and commercial construction.  Unlike traditional decking materials like wood or composites a cement patio is almost maintenance free, very easy to clean and impervious to weather.  Concrete patios and walkways can also be colored to match your home or building and we can even apply decorative finishes to concrete as well.
Bonica Excavation Inc. is an Acton MA based excavation contractor that has been serving the local area since 1987.  We specialize in the design and construction of walkways, patios, pool decks, parking pads and other hardscaped surfaces.  We are licensed, insured and we guarantee the highest quality workmanship on your project for a fair price.
Deck and Patio Construction Services
New residential concrete patios
Removal and replacement of old concrete patios
Decorative concrete walks and patios
Stamped concrete walks and patios
Concrete resurfacing
Commercial concrete walks and patios
Concrete Patio or Slab Replacement
It's not uncommon for a homeowner to want to replace their concrete slab patio.  Over the years, and especially if it wasn't poured right to begin with a concrete patio could develop cracks, which just become larger as the ground continues to settle and move.  This is why compacting the site of the concrete patio or deck properly and with the correct layers of fill is critical to the longevity of your concrete slab.
Bonica Excavation can come in and inspect your old concrete slab patio, listen to your ideas and take some detailed measurements.  We'll then be able to provide you with an accurate quote for our services that will include the removal of your old concrete patio and the pouring of a beautiful new and level slab.
Why Choose Bonica Excavation For Your Walk or Patio Project?
When you choose Bonica Excavation for your walk or patio construction project you are partnering with a local business that has been serving the area for 30 years.  You can count on your project being completed on time, within your budget and with a level of workmanship and attention to detail you won't find with other contractors.
We'll maintain a safe working environment and we'll protect your property from any damage while using our machines, the end result is too meet all of your excavation goals while leaving minimal trace of our presence.
If you'd like to receive a Free Estimate for your walkway or patio project please give us a call (978) 263-3530 or fill out our contact form and we'll get right back to you.